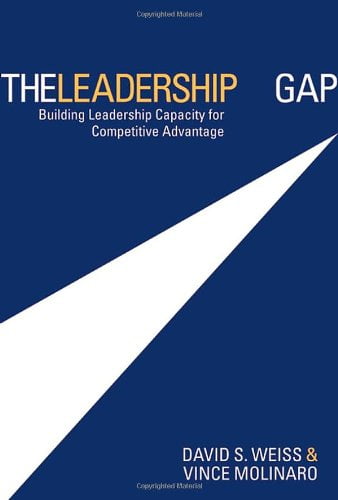 The Leadership Gap: Building Leadership Capacity for Competitive Advantage
Weiss, David S. and Vince Molinaro. The Leadership Gap: Building Leadership Capacity For Competitive Advantage. John Wiley & Sons. 2005. ISBN 978-04-7083-568-5
Weiss, David S and Vince Molinaro. The Leadership Gap: Building Leadership Capacity For Competitive Advantage. MaeKyong Publishing Inc.. 2009. ISBN 978-89-7442-596-8
There is a crisis in leadership. Leadership has become a critical source of competitive advantage in today's economy—it is leaders who shape their organizations, build teams, drive results, and inspire employees to deliver value—but there is a wide gap in many companies between leadership practices and results.
In survey after survey, senior executives identify leadership as a top business issue, but have little confidence in their organizations' actual leadership ability. This leadership gap is preventing organizations from effectively building the leadership capacity they need to succeed in changing business environments, today and in the future.
What is especially alarming about the leadership gap is that, despite widespread investments in management and leadership education, companies still are not able to close this gap. Building leadership capacity is not about two-week executive development courses or hiring a charismatic CEO. It is about embedding the value of leadership within the culture and developing leaders at all levels in the organization for a sustainable competitive advantage.
The Leadership Gap provides practical strategies for senior managers and HR leaders to bridge the leadership gap in their organizations, and to unleash their internal leadership potential to drive business results.
Explains why leadership capacity is mission critical for an organization's success.

Highlights the four aspects of the leadership gap: talent, capability, development, and values.

Provides a detailed roadmap that executives and HR leaders can use to bridge the leadership capacity gap in their organizations

Including

best practices for developing leadership at all levels within the organization.

Introduces the Holistic Leadership Framework, a successful process for developing leaders in six key areas that drive business results and sustainable business success.

Shows how to embed the value of leadership in an organization to support the development of holistic leaders, secure a supply of leadership talent now and in the future, and build processes for sustaining leadership capacity and advantage.

Provides practical tools and strategies for succession management, retaining key talent, conducting a leadership capacity audit, and assessing the effectiveness of your leadership development programs.

Applies to improving existing leadership, and developing leaders for the future.
Praise for The Leadership Gap
"This book is a superb contribution to leadership breakthroughs. Dr. Weiss and Dr. Molinaro take us beyond best practice into the world of the 'leadership economy.' This seminal work represents a turning point in our ability to analyze and deliver leadership for competitive advantage. Within, you will find key ingredients for great leadership success. It is a must read for all leaders—existing and aspiring."
Eugene Roman
Group President, Bell Canada
"A powerful source of insights on the leadership imperative in a fast-forward world. The Leadership Gap addresses the most burning issues facing organizations today. It provides an effective roadmap for building leadership capacity. It is a must read for senior executives and HR professionals."
Prem Benimadhu
Vice President, Organizational Performance
The Conference Board of Canada
"Two thumbs up! A must read for leaders, human resources professionals and any practitioner who truly believes in leadership as a competitive advantage and is seeking invaluable guidance for making that real in their respective organizations."
Lynn Evans
Vice President, Human Resources
EDS
"This unique book confronts the challenge of the leadership gap from the leader's and the organization's perspective. Weiss and Molinaro provide insight into the critical success factors for meeting the leadership gap with innovative frameworks, relevant real-life examples, important linkages, and useful graphics. The Leadership Gap is a comprehensive 'must-read' for all of us concerned with the evolution and development of leadership theory and practice in complex organizations."
George C.B. Smith
Senior Vice-President, Human Resources and Organization
CBC/Radio-Canada

The Leadership Gap is a truly comprehensive and practical book on how to bridge the emerging leadership gap between today's and tomorrow's realities.  Its basic premise that both the individual and the organization must transform for future leadership is both unique and holistic.  Weiss and Molinaro provide lots of useful insights and anecdotes on leadership in a very readable manner.
Dr. Jagdish N. Sheth
Charles H. Kellstadt Professor of Marketing,
Goizueta Business School, Emory University, Atlanta, Georgia
Author of Clients For Life: How Great Professionals Develop Breakthrough Relationships