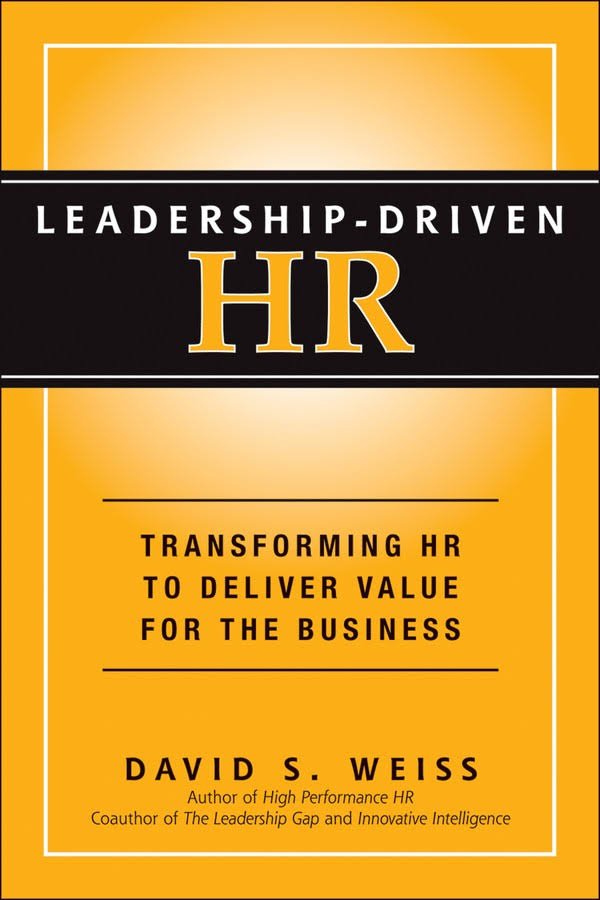 Leadership-Driven HR: Transforming HR to Deliver Value for the Business
Weiss, David S.  Leadership-Driven HR: Transforming HR To Deliver Value For The Business. Jossey-Bass. January, 2013. ISBN: 978-1-1183-6282-2
In today's highly competitive marketplace, many businesses are searching for new directions and are transforming their way of working. For businesses to transform effectively, HR must transform with it—or faster.
Leadership-Driven HR is a breakthrough road map for HR to drive value for the business, guide HR to deliver value through leaders, and ensure that HR is driven to lead. It looks past the critiques of the ways that HR may have functioned in the past and instead looks toward what HR needs to become⎯forward-thinking leaders who actively shape the future instead of being reactive. HR needs to embrace this new reality rather than attempting to hang on to the way it was in the past. The past is gone. HR needs to shape its own future so that it can be of greater value to the business.
Businesses need Leadership-Driven HR in order to succeed. The challenge to HR is to unleash its own potential to gain insight and discover solutions for how to deliver value for the business. HR also needs to lighten up other work that is of a lower priority. When HR is effective at Leadership-Driven HR, it moves from an important internal service to an essential partner of the business that is highly strategic and important to the competitive and comparative success of the enterprise.
HR also must be able to articulate a compelling story of what HR is, how it delivers value to business leaders, and how all HR priorities eventually deliver value to external customers.  Leadership-Driven HR tells that story to executives, business leaders, and HR professionals so that they will know how to transform HR to deliver value for the business.
PRAISE FOR LEADERSHIP-DRIVEN HR
Leadership-Driven HR is a departure from the usual business literature.  It is not a restating of the ideas from the recent past but rather reveals what mastery in HR leadership means.  Through storytelling and the use of practical examples, Dr. Weiss provides a roadmap to enhance, focus, and nurture the indispensable leadership qualities of HR.  This is dynamic reading for any HR professional or business leader looking for ways to revolutionize the delivery of value for their business.
Emma Pavlov
Senior Vice President, Human Resources & Organizational Development
University Health Network
With Leadership-Driven HR, Dr. David Weiss directly challenges all of us who work in human resources to get on a continual improvement path that is directly aligned with—and drives implementation of—organizational business goals.  He pushes us not to be everything to everyone, but to focus our efforts like a laser on only those priorities that will enable the organization, and its people, to succeed. David's passion, ideas, and business-focused solutions have been a great guide in my own personal journey of human resource leadership.
Kerry Pond
Assistant Deputy Minister, Centre for Leadership and Learning
Ontario Public Service
Dr. David Weiss' insights, based on strong theory combined with years of practical experience provide a compelling roadmap for the next incarnation of the HR function. I am honored to review this book as it has confirmed a number of directions we have been taking, and it has strengthened my resolve to redouble efforts on those that remain. Congratulations on the final product. It is a very meaningful contribution to the science and art of HR.
Kevin O'Farrell, CHRP
Vice President, People & Organization
Hewitt Equipment Limited 
It is a great pleasure for me to recommend Dr. David Weiss' latest book, Leadership-Driven HR, as a major step forward and upward for understanding the newly emerging key role of HR in organization success and performance – in other words a breakthrough from conventional books in the field of HRM. Leadership-Driven HR should be a must-read for all senior HR executives who wish to perform well in their key strategic HR responsibilities.
Dr. Dan Ondrack
Professor Emeritus of Organizational Behavior and HR Management
Rotman School of Management of the University of Toronto