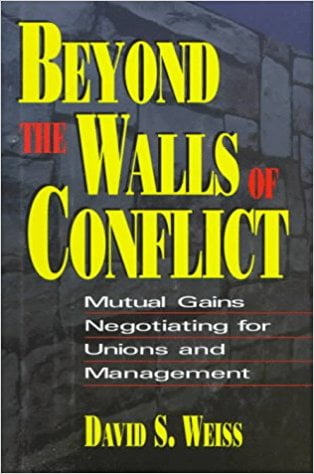 Beyond the Walls of Conflict: Mutual Gains Negotiating for Unions and Management
Weiss, David S.   Beyond The Walls of Conflict: Mutual Gains Negotiating For Unions and Management.  Irwin Professional Publishing, 1996. ISBN 0-7863-0795-1
Weiss, David S.  Franchir Le Mur Des Conflits: La négociation basée sur les intérêts des syndicats et des entreprises. Saint-Nicolas, Les Presses de l'Université Laval, 1999.
Weiss, David S.   In Search Of The 18th Camel: Discovering The Mutual Gains Oasis For Unions And Management.  Queen's University IRC Press, 2003 ISBN 0-88886-546-5
Unions and management regularly find themselves trying to resolve conflict. The news is filled with stories of union and management disagreements, strikes, and ongoing labor negotiations, from professional sports and education to manufacturing and the service industries. Negotiations fail even when both management and union leaders want mutual gains. They cannot break the pattern because they haven't had usable guides showing them how to achieve it – until now.
Beyond the Walls of Conflict is a unique book that offers a truly breakthrough method for solving problems between unions and management. It is an insightful guide for negotiators on both sides, offering direction as they proceed through collective bargaining and conflict resolution. The book presents systematic, usable presentations of how unions and management can apply mutual gains principles, specifying how to apply alternative dispute resolution in actual negotiating and problem-solving settings.
Beyond the Walls of Conflict is a practical resource different from other books because it includes:
Clear definitions of benefits for management and unions and identification of situations in which alternative dispute resolution may or may not work

A list of key success factors that are essential for creating a peace between management and unions

Clearly spelled out differences between traditional and mutual gains problem solving

Straightforward discussions about the taboo subjects of trust and mistrust

Steps to use in mutual gains negotiation such as, how to get started, how to negotiate specific issues, how to develop creative solutions, and how to come to an agreement

Specific negotiation traps and strategies to avoid them

A vision for a new kind of union and management relationship "beyond the walls of conflict."
For those considering or participating in alternative dispute resolution processes, Beyond the Walls of Conflict is a road map for collective bargaining and union-management problem solving. It offers a new vision for union and management relations that focuses on continuous negotiations and ongoing dialogue.
Praise for BEYOND THE WALLS OF CONFLICT (First Edition) and IN SEARCH OF THE 18TH CAMEL (Second Edition)
"Dr. Weiss has successfully translated his experience in around collective bargaining into a very readable book which will be useful to all negotiators. Because of its practical approach, numerous examples and insightful guidelines, it is essential reading for anyone who uses or intends to use an interest based approach to the negotiating process."
George Smith, Vice President, Canadian Broadcasting Company
"A must read by every negotiator. One of the best books available on the mutual gains approach. It sets out all the required steps, answers all the right questions, and should be on every negotiator's required reading list."
Fred Pomeroy, President, Communications, Energy and Paperworkers Union of Canada
"Beyond the Walls of Conflict has taken contract negotiations out of the domain of arcane ritual and placed them into a far less threatening problem-solving environment. This is a major accomplishment. It works!"
Wesley Scott, Executive Vice President of Nortel
"Beyond the Walls of Conflict  is a breakthrough book that for the first time provides managers and unionists a proven way to negotiate for mutual gains. Applying these insights and skills provide a path for brighter and more rewarding futures for all parties."
Edward Cohen-Rosenthal, Author, Unions, Management, and Quality and Mutual Gains