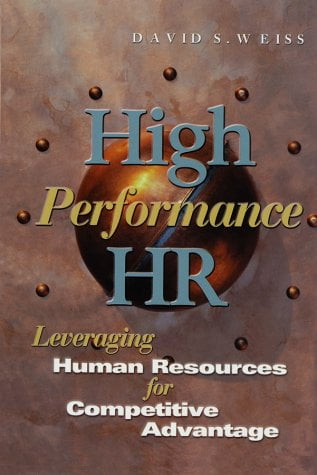 High Performance HR: Leveraging Human Resources for Competitive Advantage
Weiss, David S.  High Performance HR: Leveraging Human Resources For Competitive Advantage. John Wiley & Sons. 2000. ISBN 0-471-64385-8
Weiss, David S. High Impact HR: Transforming Human Resources For Competitive Advantage. John Wiley & Sons. 1999. ISBN 0-471-64385-8
A fresh perspective on the HR function, this book challenges the traditional view of HR as a service function and replaces it with a new vision of HR as an internal business accountable for the return on investment of essential corporate assets – people and organizational processes.
High-Impact HR not only challenges HR's traditional role, but also provides practical strategies for transforming HR's role, priorities, accountabilities, and organizational design. It positions the human resources function as a key business partner in helping any organization achieve its strategic goals. HR has an important role in aligning itself and all organizational functions to deliver value to the external customer and to ensure competitive advantage for the organization. HR's focus should be on how to help people internally to deliver value externally.
High-Impact HR also focuses on what not to do–how and why HR should abandon specific types of work for a better fit with the company's strategic goals. The focus is on abandoning work appropriately, focusing on alignment with corporate strategic objectives and on work that truly adds value.
High-Impact HR provides a roadmap for executives and HR leaders attempting to transform the HR function for competitive advantage:
Describes how the HR function should be positioned for the future–as a strategic business partner, not simply as a service function.

Provides a practical roadmap to align HR with the rest of the company in a common strategic direction, in order to deliver value to the external customer.

Features questions and checklists that help assess the readiness of your company's HR function to be a high-impact department.

Explains how HR can organize and streamline its "traditional" work, as well as how it can help to transform the entire company through strategic business processes such as cultivating a flexible culture, championing strategic alignment, implementing change and transition, and insuring the best investment in human capital.

Defines clearly the expectations executives can and should have of their human resources leaders, an area that senior management often struggles with in assessing what the value should be from their HR function.

Proposes an innovative organizational design that integrates HR with other internal service businesses in the organization, to help the company succeed.

Gives HR professionals the concepts and practical strategies to revitalize their function and to deliver value to the company.
Praise for High-Performance HR
"This book clearly redefines the valuable role and impact HR can have in business. Particularly refreshing is the acknowledgment and definition of the link HR has with the external customer. I strongly recommend this book to all HR professionals considering a re-evaluation of their own HR function."
Ron Guest, Vice President, Human Resources, Bell Canada
"This book provides a valuable new way for HR professionals to think about their work, their department, and how they can become strategic players in their organization. David Weiss's examples and insights include such gems as the 'abandonment' principle: how to delay, dump, or distribute low value-added HR work. That alone is worth the price of the book. But there are lots of other jewels, such as: how HR executives can create alignment with their company's strategic direction in five important areas; how they can help create a flexible culture and implement change; and how to measure and optimize the firm's investment in human capital. Don't miss this important new book–a must-read for the forward-thinking HR professional."
Dr. Carol Beatty, Professor, Business School, Director, Industrial Relations Centre, Queen's University
"Finally, a book that shows us how to build the HR function into one that is truly valued as a strategic business partner–a must-read for all business leaders."
James Marchant, Vice President Human Resources, C-Mac Industries
"It is indeed refreshing to see a human resource book that focuses on external customers and treats human resources as a business and not just a staff function."
Dr. Jagdish N. Sheth, Charles H. Kellstadt Professor of Marketing, Goizueta Business School, Emory University
"It is brilliantly insightful. What I find so compelling about it, is just how accurate a depiction it is of both HR reality and hopefully HR potential."
Lynn Evans, Vice President Human Resources, Nortel Networks